I stand by it: Camp Falcon Explosion was Nuclear Fusion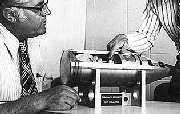 Thousands upon thousands of people have visited this blog's items on the Camp Falcon Mushroom (links below). So far, every moderately scientific argument that I have heard asserting that the explosion was non-nuclear in nature has been answered by video evidence at this blog as well. I have emailed an expert with my position, asking him to take apart my deductions in the interest of the truth and in the interest that I not misinform people. This was a person that had reportedly been debunking this information. I even explained to him that there were an awful lot of people visiting this blog and he would do the public a great service by simply sending me something scientific to post. It has been about three weeks and still no answer.
Always beware that a scientist that truly understands his or her work will likely be able to explain it in layman's terms. Albert Einstein, after all, explained relativity in terms that a teenager could understand. I should know.
I posted an
item from Allen L. Roland
, whose work
Jeff Rense
has jumped all over, though it is decidly less scientific in its deductions, Roland's Ph. D. notwithstanding (recently, it seems, Jeff Rense has stopped carrying Roland's work). His assertion that we were dealing with depleted uranium rounds was based on the existence of a video showing what such
should
look like and this video, as may or may not know, is simply not referencable except that it was once viewed by Allen and we all need to just take his word for it. Any internet journalist and any scientist should know that this is not how we arrive at solid conclusions.
It has been weeks and not one scientist has stepped up to truly debunk this. Were it possible, I am not sure it would happen anyway. Easily the most scientifically educated
sounding
opinions on this have argued in favor a micronuke and those comments are interspersed throughout this blog. I think that most scientists are simply afraid of what they see. I think that most people are also afraid, being willing to embrace an explanation that is simply more comfortable.
I feel as if I have been tricked into temporarily supporting Roland's work, though perhaps by my own latent biases. I posted it at my blog and sent it to Jeff Rense. I too, it seems, wanted to believe in something a little less dangerous. Rense, like everyone, jumped all over it because the alternative is truly scary. I managed to help a false theory, I fear, explode onto the scene and I take my share of the responsibility. To readers and people everywhere, I apologize, from the depths of my heart. There is evidence that amongst American internet users, journalists, and bloggers that the coverup is complete. It seems like a non-issue now in many corners of cyberspace (crossing fingers).
In Europe this issue has exploded all over independent media and there seems to be little doubt that the United States could allow for something like this to occur. As much as I have tried to rid myself of the poison of patriotism, it seems that the Europeans have managed to highlight that it still exists in my psyche. It's something for me to work on.
I am still waiting for a scientist that knows his stuff, one with integrity and who doesn't drop from the debate upon a demand for layman's terms (I know enough about physics to know that this stuff is not un-translatable from jargon and usually, I know just enough not to be duped), and debunk this: that nuclear devices, probably fusion oriented ones, were stored at Camp Falcon. Such a person must explain the generation of white light as well as the mushroom effect. I have already found out that a small nuke doesn't generate an effective EMP at much of a distance, less than a mile at any rate.
Well? I'm STILL waiting!
Mushroom Cloud Erupts at U.S. Base in Iraq
U.S. Marines Vid of Ammo Dump - Tactical Nukes?
More Research on What Went Off at Camp Falcon
Postscript: It has been suggested that the largest, non-nuclear bomb ever created, the MOAB, mushrooms. Well
it does not
. It does, over a period of time, manage to spew debris
thousands of feet into the air
but we do not get a sudden, vertical rush of an energy vortex strong enough to suck all debris straight upward hundreds of feet. We also do not get a brilliant white flash of generated electromagnetic energy nor the spherical display of light prior to the mushroom effect, as we do
here
and
here
.
We cannot substitute the fact that no one wants to talk about it or the fact that no agency or government or media outlet has commented on it as evidence when the real evidence that we have, the only evidence we have, is the visual evidence and the visual evidence does not contradict itself in any way. It tells one story, that of a fusion device.